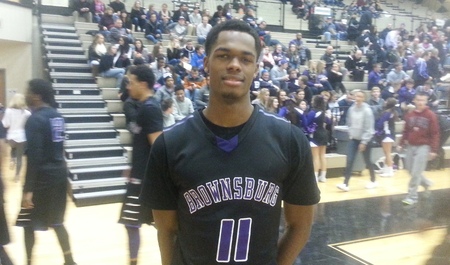 The Indy Star released its 2015 Indiana All-Star team on Monday. Headlining the group is Mr. Basketball Caleb Swanigan as well an honorary spot for Josh Speidel. Here is a look at the 2015 team.
Caleb Swanigan - 6-8 - C - Homestead
The Michigan State-bound post player guided the Fort Wayne school to the 4A state title in dramatic fashion. He surprised many when he committed to Michigan State a couple weeks ago. He was the most dominant player during the 2014-2015 season. Homestead played top out of state talent and Swanigan performed well each time. He was the lone McDonald's All-American from Indiana this year. He also played in the Jordan Brand Classic. He started high school as a member of the 2016 class, but switched to 2015 last spring.
Ryan Cline - 6-5 - SG - Carmel
The rise of Cline throughout his high school career is like another Indianapolis-area kid a few years ago, R.J. Hunter. Cline was always a skilled player with a fantastic outside shot. Once he caught up to his classmates physically, his game took off in a major way. Cline tore up the travel circuit last year for Indiana Elite Diesel and Indiana Elite 2015. Much like Hunter when he finished high school, his best days are ahead of him.
Harris Brown - 5-11 - G - Indianapolis Howe
Brown has been one of the most explosive scorers in Indiana for the last couple of seasons. He led Howe to the Indianapolis City Tournament title in January. The Hornets had a fantastic season overall. They won 18 games in a row at one point. Brown will play for Evansville next year.
Joel Okafor - 5-10 - PG - Richmond
Okafor led Richmond to 48 victories over the last two seasons including a 4A semi-state appearance this season. He is a tough point guard that is best as a defender and distributor. His outside shot has shown improvement over his career as well. He was committed to Green Bay before Brian Wardle left for Bradley. Okafor de-committed from Green Bay and immediately committed to Bradley.
Devin Cannady - 6-1 - PG - Mishawaka Marian
The biggest snub of the Junior All-Star team last season, Cannady made the main team this year. Cannady has had team success and individual accolades over his career. He has not received the statewide attention as many of the other members, but he can play with anyone. He is heading to Princeton and he should have a great career there.
Jaelan Sanford - 6-2 - SG - Evansville Reitz
The Toledo-bound guard was a part of one of the most electric teams in Indiana history. He was a major part of the success of Reitz. Sanford is an athletic guard with unlimited range that he displayed late in the 4A state championship game.
Ryan Fazekas - 6-8 - SF - Marquette Catholic
Fazekas guided Marquette to back to back 1A state championship game appearances. Marquette won in 2014 and lost this season. He had a big-time performance in the 2014 game when he scored 34 points. Fazekas is heading to Providence College next year.
Sean McDermott - 6-6 - SG - Pendleton Heights
A true 6-foot-6, McDermott is a shooter with excellent length. He averaged 16 points this season including 87% from the free throw line. He will hope to have similar success to former Pendleton Heights Indiana All-Star Kellen Dunham at Butler.
K.J. Walton - 6-3 - SG - Brownsburg
Walton is the only All-Star that has not made a college decision yet. Walton is a strong, quick guard that averaged just under 20 points per game this season. He also grabbed five rebounds per contest.
Ryan Welage - 6-8 - PF - Greensburg
Welage had one of the top individual seasons in recent years as he averaged nearly 31 points and 18 rebounds per game. After losing Bryant McIntosh and Sean Sellers to graduation, most people thought Greensburg would have a down season. Welage's efforts did not allow that to happen. The Pirates ended the season with a record of 21-4. He is ended to San Jose State next year.
Matt Holba - 6-6 - F - Guerin Catholic
Holba finished his high school career by dominating in the 3A state title game for Guerin Catholic. It was his team this year after sharing the spotlight with Aaron Brennan last season. He came up big especially when it mattered most. He will continue his career at Lehigh next season.
Tahjai Teague - 6-8 - F - Pike
The Ball State commit helped lead Pike to the sectional title with an upset win over Southport. He increased his rebounding and shot blocking this season while averaging about 14 points per game.
Derrik Smits - 7-0 - C - Zionsville
The Valparaiso University-bound center averaged 15 points and six rebounds a game as a senior. It was definitely his most productive season in high school. If he buys into the culture at Valpo, he will have a big career.
Josh Speidel - 6-7 - PF - Columbus North
Speidel was having a spectacular senior season before he was involved in the serious car accident early in February. He has made strides in his condition lately, but it is still early in the recovery process for Josh. Hopefully things continue to improve for Josh and his family.